Erben-Ermittlung Emrich
EXPLAINED FOR YOU
Certificate of Inheritance
A certificate issued by the probate court on the right of inheritance, stating the heirs and their quotas (see: Inheritance Share). If several persons form a community of heirs, a joint certificate of inheritance can be issued. It is also possible to issue partial certificates of inheritance. Within the EU, the European Certificate of Succession serves as proof of inheritance.
Certificate of Inheritance Application
The heirs must apply to the probate court for a certificate of inheritance. Erben-Ermittlung Emrich prepares the certificate of inheritance application on behalf of the heirs we represent and monitors the proceedings in cooperation with the company's legal department.
Certificate of Inheritance Proceedings
The proceedings for granting a certificate of inheritance take place at the probate courts. The basis for this is an application for a certificate of inheritance.
Community of Heirs
If there are several heirs, one speaks of a community of heirs. This community is only capable of acting as a whole, i.e. all heirs must be in agreement.
Contingency Fee
A contractually agreed upon fee that only becomes due in the event of success. Erben-Ermittlung Emrich offers contracts with a contingency fee, meaning the heirs represented do not have to make advance payments nor do they bear any financial risk: If, for example, the estate is indebted, or a last will or testament appears, the case cannot be successfully completed and Erben-Ermittlung Emrich bears all costs incurred itself.
Contract of Inheritance Settlement
The distribution of the estate within a community of heirs can be regulated by an agreement between all heirs, a so-called contract of inheritance settlement.
Debt
Estates can be indebted. Erben-Ermittlung Emrich begins its investigations at its own risk and only receives a percentage of the estate value in the event of success (see: Contingency Fee), we do not take on insolvent estate matters. Thus, for our heirs, there is no risk of inheriting debts.
Decedent
A deceased person who leaves an estate
Disposition, will
refer to: Testament or Inheritance Contract
Estate
The estate is the totality of all goods and liabilities (see: Estate Liabilities) left behind by a deceased person (see: Decedent).
Estate Administrator
If there is a need to safeguard the estate and the heirs of a decedent are unknown, the probate court may order a guardianship of the estate. The estate administrator is appointed for this purpose, as the legal representative of the unknown heirs, and is likewise responsible for the case investigation. If they do not succeed in locating all heirs, professional heir investigation companies, such as Erben-Ermittlung Emrich, are regularly commissioned to do so.
Estate Liabilities
The debt for which the heir is liable to the creditors of the estate is referred to as the estate liabilities. This may be the debts of the decedent themselves, or debts that arise from the inheritance itself (so-called debts of the estate), such as funeral or court costs.
Estate Value
The estate value is the estate's total worth after deduction of all existing estate liabilities.
Evidence, alternative
If vital records are destroyed, alternative evidence must be used to prove the relationship between the decedent and the heirs. This may involve entries from church records, for example.
Fee Contract
refer to: Contingency Fee
Genealogist
A genealogist conducts family research and establishes family connections. Erben-Ermittlung Emrich employs professional genealogists in the search for heirs to an estate.
Heir
The heirs of a decedent are their legal successors according to a last will or testament or under the laws of intestacy. If an inheritance is not refused in due form and time, the inheritance is deemed to have been accepted.
Inheritance Contract
It is another form of testament next to the will.
Inheritance Law
Inheritance law in Germany is governed by the German Civil Code (BGB). If there is no disposition upon death such as a last will or testament by which the heirs are determined by the decedent, the laws of intestacy apply.
Inheritance Quota
refer to: Inheritance Share
Inheritance Tax
German inheritance tax is calculated on the individual heir's share in the inheritance. The amount of inheritance tax, the tax bracket, depends on the degree of kinship (see: [Order of] Succession) and estate value. Every taxpayer is entitled to an exemption.
Inheritance Tax Return
In principle, the inheritance must be reported to the tax office. Upon request by the tax office, an inheritance tax return must be submitted. Erben-Ermittlung Emrich takes care of the preparation of the inheritance tax return and assumes the costs of a tax advisor or lawyer appointed for this purpose.
Intestacy
In [German] inheritance law, there are two types of succession: legal and voluntary. In voluntary succession, the heirs are determined by the decedent through a will. If there is no will, the legal succession (see: [Order of] Succession) takes effect. It determines the heirs on the basis of the various orders of succession.
Notary
Notaries perform a public function and are responsible, among other things, for certifying and authenticating declarations of intent.
Probate Court
As a rule, the responsible probate court is the local court at the last registered residence of a decedent. The probate court also issues the certificate of inheritance.
[Order of] Succession
The legal succession is determined on the basis of the order of succession (OS), which are determined by the degree of kinship to the decedent:
1. OS: descendants of the decedent
2. OS: parents of decedent and their descendants
3. OS: grandparents of decedent and their descendants
4. OS: decedent's great-grandparents and their descendants
Tax Exempt Amount
refer to: Inheritance Tax
Testament
The so-called testamentary disposition or testament is, like the inheritance contract, a form of will. The will must have been written and signed by the decedent themselves or been drawn up for the record of a notary.
Vital Records
Heirs must prove their relationship with the decedent and their entitlement to inherit by means of civil birth, marriage and death certificates. If vital records have been destroyed, alternative evidence must be used.
Will
Regulates the last will of a testator in the form of a testament or inheritance contract. If there is no will, the laws of intestacy apply.
Beweismittel, alternative
Sind Personenstandsunterlagen zerstört, muss beim Nachweis der Verwandtschaft von Erblasser und Erben auf alternative Beweismittel zurückgegriffen werden. Dabei kann es sich beispielsweise um Einträge aus Kirchenbüchern handeln.
Erbanteil
Erbanteil bezeichnet den Anteil eines Erben am Nachlass. Dieser kann testamentarisch vom Erblasserfestgelegt sein. Gibt es kein Testament, regelt die gesetzlich bestimmte Erbquote,wie viel jedes Mitglied der Erbengemeinschaft bekommt. Sie ergibt sich nicht nur aus der Anzahl der Erben, sondern auch aus deren Stellung im Stammbaum.
Erbauseinander- setzungsvertrag
Die Verteilung des Nachlasses innerhalb einer Erbengemeinschaft kann durch eine Vereinbarung zwischen allen Erben, einen sog. Erbauseinandersetzungs-vertrag, geregelt werden.
Erbe
Erben einer Person treten aufgrund testamentarischer oder gesetzlicher Erbfolge als Rechtsnachfolger des Erblassers an dessen Stelle. Sofern eine Erbschaft nicht form- und fristgerecht ausgeschlagen wird, gilt die Erbschaft als angenommen.
Erbengemeinschaft
Sind mehrere erbberechtigte Personen vorhanden, spricht man von einer Erbengemeinschaft. Diese ist nur insgesamt handlungsfähig, es müssen also regelmäßig alle Erben einig sein.
Erbfolge
Im Erbrecht gibt es zwei Arten der Erbfolge: die gesetzliche und die gewillkürte. Bei der gewillkürten Erbfolge werden durch eine Verfügung von Todes wegen dieErben vom Erblasser festgelegt. Gibt es keine Verfügung von Todeswegen, greift die gesetzliche Erbfolge. Sie bestimmt die Erben anhand der verschiedenen Erbordnungen.
Erblasser
Verstorbene Person, die einen Nachlass hinterlässt.
Erbordnung (EO)
Die gesetzliche Erbfolge bestimmt sich anhand von Erbordnungen (EO), die durch den Verwandtschaftsgrad zum Erblasser festgelegt werden:
EO: Abkömmlinge des Erblassers
EO: Erblasser-Eltern und deren Abkömmlinge
EO: Erblasser-Großeltern und deren Abkömmlinge

EO: Erblasser-Urgroßeltern und deren Abkömmlinge
Erbquote
Das Erbrecht ist in Deutschland im Bürgerlichen Gesetzbuch (BGB) geregelt. Ist keine Verfügung von Todes wegen vorhanden, durch die die Erben vom Erblasser bestimmt werden, greift die gesetzliche Erbfolge.
Erbschaftssteuer
Wird bei Anfall des Erbes fällig. Die Höhe der Erbschaftssteuer, die Steuerklasse, ist abhängig von Verwandtschaftsgrad (s. Erbfolge) und Nachlasswert. Jedem Steuerpflichtigen steht ein Freibetrag zu.
Erbschaftssteuer- erklärung
Grundsätzlich besteht eine Meldepflicht der Erbschaft beim Finanzamt. Nach Aufforderung durch das Finanzamt muss eine Erbschaftssteuererklärung abgegeben werden. Die Erben-Ermittlung Emrich trägt für die Erstellung der Erbschaftssteuererklärung Sorge und übernimmt die Kosten eines hierfür beauftragten Steuerberaters oder Rechtsanwalts.
Erbschein
Ein vom Nachlassgericht ausgestelltes Zeugnis über das Erbrecht, das die Erbenund ihre Quoten (s. Erbanteil) ausweist. Bilden mehrere Personen eine Erbengemeinschaft, kann ein gemeinschaftlicher Erbschein erteilt werden. Auch die Erteilung von Teilerbscheinen ist möglich. Innerhalb der EU gilt das Europäische Nachlasszeugnis als Erbnachweis.
Erbscheinsantrag
Ein Erbschein muss durch die Erben beim Nachlassgericht beantragt werden. Die Erben-Ermittlung Emrich bereitet den Erbscheinsantrag für die von ihr vertretenen Erben vor und begleitet das Erbscheinsverfahren in Zusammenarbeit mit ihren Rechtsanwälten.
Erbscheinsverfahren
Das Verfahren auf Erteilung eines Erbscheins findet bei den Nachlassgerichten statt. Grundlage hierfür ist ein Erbscheinsantrag.
Erbvertrag
Ist neben dem Testament eine Form der Verfügung von Todes wegen.
Erfolgshonorar
Vertraglich vereinbartes Honorar, das nur im Erfolgsfall fällig wird. Die Erben-Ermittlung Emrich bietet Verträge mit Erfolgshonorar an, was für die vertretenen Erben bedeutet, dass sie weder Vorauszahlungen leisten noch ein finanzielles Risiko tragen müssen: Sollte z. B. der Nachlass verschuldet sein, die Erbenermittlung nicht erfolgreich abgeschlossen werden können oder eine letztwillige Verfügung auftauchen, trägt die Erben-Ermittlung Emrich immer sämtliche Kosten selbst
Genealoge
Auch Familien- oder Ahnenforscher genannt, betreibt Familienforschung und stellt familiäre Zusammenhänge her. Die Erben-Ermittlung Emrich beschäftigt professionelle Genealoginnen und Genealogen für die Suche nach Erben.
Nachlass
Der Nachlass ist die Gesamtheit aller Güter und Verbindlichkeiten (s. Nachlassverbindlichkeiten), die eine verstorbene Person (s. Erblasser) hinterlässt.
Nachlassgericht
In der Regel ist das Amtsgericht am letzten Wohnsitz einer verstorbenen Person das zuständige Nachlassgericht. Diese erteilt auch den Erbschein.
Nachlasspfleger
Besteht ein Sicherungsbedürfnis für den Nachlass und sind die Erben einer Person nicht bekannt, kann das Nachlassgericht eine Nachlasspflegschaft anordnen. Der zu diesem Zweck bestellte Nachlasspfleger ist als gesetzlicher Vertreter der unbekannten Erben auch für deren Ermittlung zuständig. Gelingt es ihm nicht, alle Erben zu recherchieren, werden regelmäßig professionelle Erbenermittlungsunternehmen wie die Erben-Ermittlung Emrich hiermit beauftragt.
Nachlass- verbindlichkeit
Als Nachlassverbindlichkeit bezeichnet man die Schulden, für die der Erbe den Nachlassgläubigern haftet. Dabei kann es sich etwa um Schulden des Erblassers selbst (sog. Erblasserschulden)handeln, oder auch Schulden, die erst durch den Erbfall selbst entstehen (sog. Erbfallschulden) wie z. B. Beerdigungs- oder Gerichtskosten.
Nachlasswert
Unter dem Nachlasswert versteht man das Nachlassvermögennach Abzug sämtlicher vorhandener Nachlassverbindlichkeiten.
Notar
Notarinnen und Notare üben ein öffentliches Amt aus und sind unter anderem für Beglaubigungenund Beurkundungen von Willenserklärungen zuständig.
Personenstands- unterlagen
Erben müssen ihre Verwandtschaft mit dem Erblasser und Erbberechtigung durch standesamtliche Geburts-, Heirats- und Sterbeurkunden nachweisen. Sind Personenstandsunterlagen zerstört, muss auf alternative Beweismittel zurückgegriffen werden.
Schulden
Nachlässe können überschuldet sein. Da die Erben-Ermittlung Emrich ihre Ermittlungen auf eigenes Risiko aufnimmt und nur im Erfolgsfall eine prozentuale Vergütung vom Nachlasswert erhält (s. Erfolgshonorar), werden wir in überschuldeten Nachlassangelegenheiten gar nicht erst tätig. Für die von uns gefundenen Erben besteht daher kein Risiko, Schulden zu erben.
Testament
Sog. letztwillige Verfügung, ist neben dem Erbvertrag eine Form der Verfügung von Todes wegen. Das Testament muss vom Erblasser eigenhändig geschrieben und unterschrieben worden sein oder zur Niederschrift eines Notars errichtet werden.
Urkunden
s. Personenstandsunterlagen
Verfügung, letztwillige
s. Testament oder Erbvertrag
Verfügung von Todes wegen
Regelt als Testament oder Erbvertrag den letzten Willen eines Erblassers. Gibt es keine Verfügung von Todes wegen, gilt die gesetzliche Erbfolge.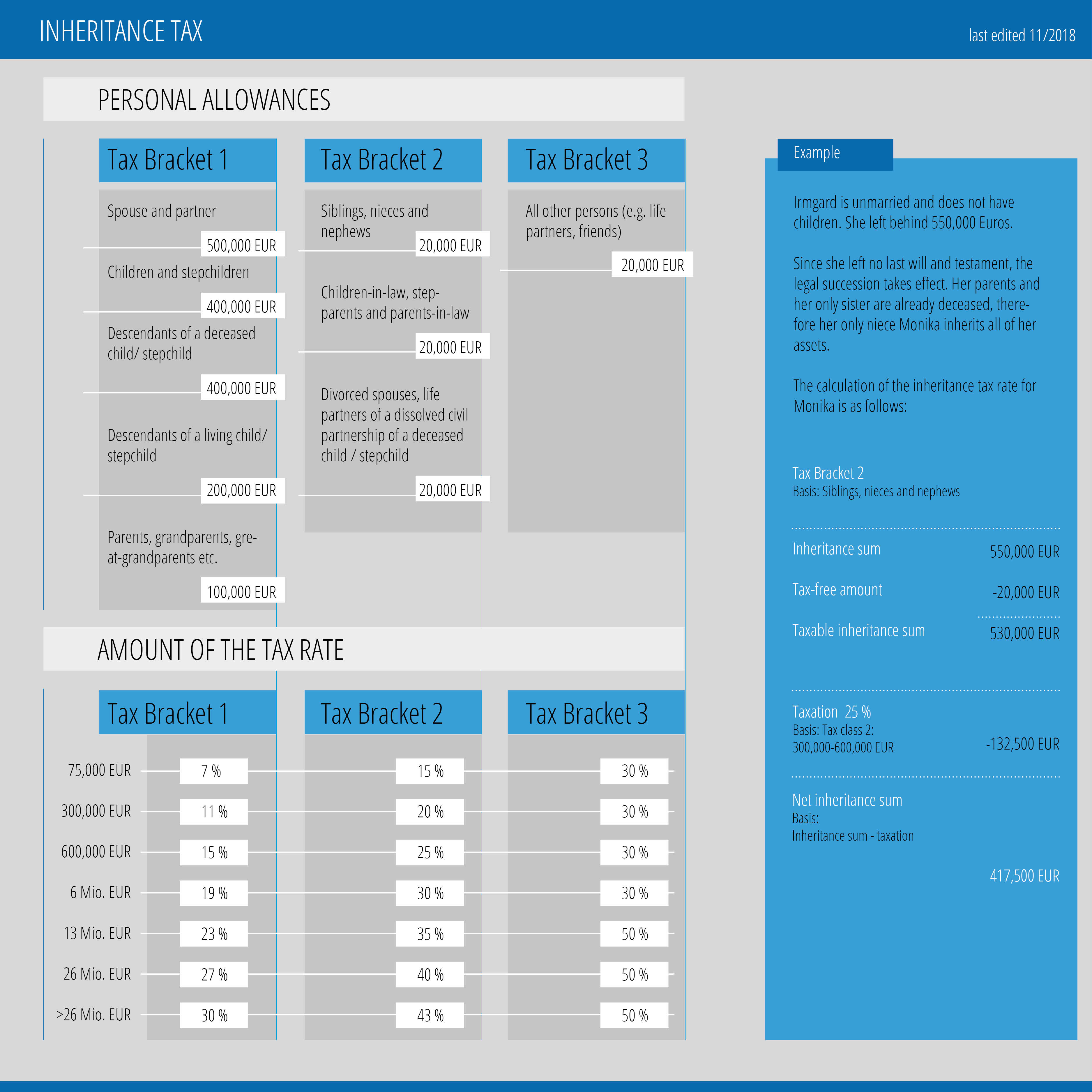 INHERITANCE TAX – a short introduction
Here you will find an overview of German inheritance tax regulations.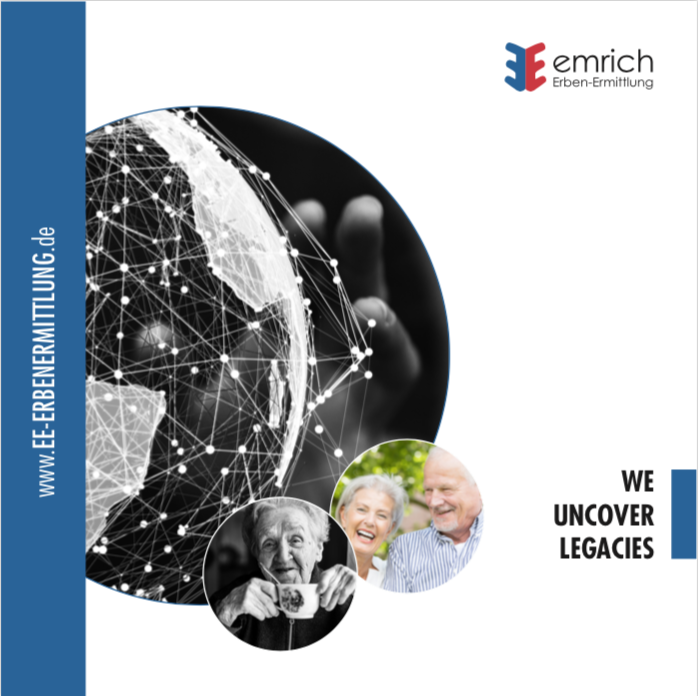 INFORMATION FOR HEIRS
We have collected the most important information for heirs in our booklet.
You are welcome to contact us via mail, telephone or e-mail.
Our address
Erben-Ermittlung Emrich Zossen GmbH & Co. KG
Am Marktplatz 7/8
15806 Zossen
Germany
Our e-mail address
info@ee-erbenermittlung.de
NEHMEN SIE KONTAKT ZU UNS AUF!
Gerne können Sie uns auf den hier angegebenen Wegen via Post, Telefon oder E-Mail kontaktieren.
Unsere Anschrift
Erben-Ermittlung Emrich Zossen GmbH & Co. KG
Am Marktplatz 7/8
15806 Zossen
Deutschland
Unsere E-Mail-Adresse
info@ee-erbenermittlung.de